Fly with me, my Black Swan!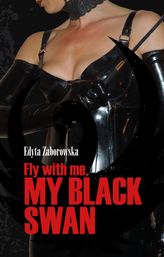 It was impossible for Henry to speak a single word. Eva had tied the mouth gag too tightly. His hands and feet were firmly tied to the bedposts and he didn't really know how long he'd been lying helpless on the bed. At least he could see something again, because she had removed the blindfold from his eyes. Slowly he recognized the dim light of many candles in the bedroom but it took a while before he saw clearly.
His heart began to race and he couldn't believe his eyes as he began to recognize everything again. Eva had used the time to put on a black latex outfit that hugged her wonderful body tightly. The smooth surface of the material reflected the many flickering candles. His most secret dreams had come true.
She was standing in front of the bed and silently gave him the opportunity to view her. While he was blindfolded, she had used the time to put on make-up. Her dark eyes were further drawn out and she had highlighted her eyelids with eye shadow. The red lipstick and lip liner emphasized the delicate curves of her mouth. Eva was now a completely different person. She looked as wonderful as she did aloof, a true goddess. He was no longer able to think clearly, his feelings for her and the arousal he felt were overwhelming.
"Well, look what the cat dragged in! My naughty little boy!" she sneered.
She picked up a riding crop and squeezed the tip under his chin.
"Have you been playing with your little prick again while I was away?"
Eva asked mockingly. She looked down at him and raised an eyebrow. Her cool expression and her unapproachable demeanour told him that she was serious.
"Tell me the truth! You know that my sharp eyes miss nothing!"
She spoke quietly, almost gently.
Henry shook his head sheepishly, the mouth gag made it impossible for him to utter a word.
She laughed and her voice was louder.
"You're not telling the truth, are you? You're lying again! You'll never learn, will you? Do you really think I don't know my little slave inside out?" 
She stroked the tip of the riding crop from his chin down to his cheek, gave him a light tap and shook her head.
"It's always the same with you. As soon as I turn my back, you start to play with your little cock!"
Eva went to the window. The high heels of her black patent boots made a quiet sound on the carpet. She turned her back on him and looked silently out the window into the dark night. Henry could now admire his dominatrix in her full splendour.
The black latex skirt stretched like a second skin on her well formed butt. He could just make out the lace of her garterless stockings under the short skirt. The black tight laced latex corset gave her a really narrow waist and she had pulled up the long black latex gloves almost to her shoulders. She held the riding crop in her hand and slapped it slightly against the heel of her right boot. He knew he mustn't make any more mistakes, because she was obviously impatient with him now.
She looked out of the window and spoke without looking at him. She brushed her long chestnut hair behind her ear.
"I want to ride you today and I need a real stallion. I can't use you when you've been playing all the time with your little cock. And so that you can't do it anymore, I've come up with a new idea. In future, I'll tie you up like this the whole day before!"
She turned back to him.
"But today's violation of my instructions will result in physical punishment with my riding crop! I promise you, after the corporal punishment we'll both feel better. Believe me, I have experience!"
She held the riding crop with both hands in front of her and bent it a little, as if to test its resilience. Then she lowered the blinds of the window.
"It's better for you! No one can watch us when I teach you better manners. I'm going to break you away from the shackles and then you'll kneel on the floor! So my whip can talk for me!"
She undid the cuffs and he did what he was told. He knelt before her and looked at her thigh-high boots.
"Good, stay in this position now!" she said and placed herself behind him.
"You can't believe how much I've looked forward to this moment. After this you'll be a docile and trained stallion and it will be a pleasure for you to serve the Mistress. Enough talk now! You are boring me! Keep quiet and I-iii ..."
The "I" suddenly extended unnaturally long.
"... iiiiiiii!" The sound was distorted more and more and then there was a dull thud, followed by a long silence.
Slowly the candlelight filled bedroom changed into a sober office on the fourth floor of an office block and the big bedroom mirror changed into the mirrored front of an insurance building on the other side of the road. Down on the street, a black Mercedes had crashed into a small car despite putting on its brakes. Two people shouted loudly at each other, waving and gesticulating with their arms and hands. One of them, apparently the driver of the black Mercedes, pressed a handkerchief to his bleeding nose.
Henry was suddenly brought down to earth. Just another dream, he thought absently, pressing his forehead against the window of his office. He thought of Eva and looked over at the city park, where the leaves were almost completely fallen from the trees. He also felt a hard erection in his pants.
"Autumn" he said quietly.
The oaks were bare of leaves, the branches of the trees in the park looked like pleading men, stretching their raised arms to the sky, skeletal trees, their branches ending in bony hands, their roots going deep down into graves. In six months time he would be able to see the green of the young foliage again. From the office, even through the bare branches, he could see the oval pond and the white balustrade on the shore. Every summer, the pond was full of water lilies, gorgeous white and pink blossoms, he thought wistfully. Two swans had quietly tread the water all summer long. Now it was hard to see any trace of them. The swans and the water lilies were gone. The green of the lily pads had turned into a muddy gray-brown. They would soon die off entirely. Soon enough, the winter will come and the snow will lay like a white sheet over everything. It is almost like dying, he thought. But the fall was more than just a time of leaf fall and a cold forerunner of the early winter. Fall was a time of maturity in nature, verging on decline, he mused. Had he reached maturity? He was forty-seven years old; in three years he would be fifty. The magic number! Is everything downhill after that? Would his personal winter begin then?
Henry squinted and stared at the pond in the pale light of the autumn sun among the old trees. What could he expect from the future? His thoughts drifted back to his past. His life had not been too exciting so far, he thought. Maybe he had just always been too cautious and too quiet. Certainly he was not the most sociable person, but among friends he was still always welcome. Even today he was told he had a certain charisma. But what had it brought him, this reputed attraction to the female sex? He thought of his brief marriage that had held for only two years. After that he had a couple of affairs and a big disappointment with Claudia. Not very much, he thought.
He looked down at the street again. Meanwhile a police patrol car had arrived at the scene and his thoughts were lost again in his past.
Fortunately he had found his true love now. For the last five years he and Eva had been a close couple. He was thinking about the first time he had seen her. It was about five years ago at a cocktail party, where she was listening to the music. Henry could still remember exactly how she stood next to him at the table. She presented a discreet appeal that perhaps not everyone would immediately recognize. Her long dark hair was pulled back in a ponytail and her raised cheekbones revealed delicate Slavic features. It began with a brief eye contact and a shy smile, and then their eyes caught again. Even though her eyes showed much injustice and suffering, he could recognize in them also a lot of strength and willpower. Eventually they got into conversation. Eva spoke with a beautiful Eastern European accent and they talked for a long time into the night. Finally, he gave her his phone number and they arranged to meet. Many meetings followed in cafes and restaurants. And then they had a walk in the park. At the pond in the park they watched the swans treading the water slowly and in silence. The lilies were blooming in full splendour. Eva took his hand and kissed him lightly on the cheek. Slowly her restraint dwindled and finally, she invited him to her home for dinner.
He recalled his first meeting with her two sons, whom she had spoken about so often. Then one day came the first real long kiss on the doorstep of her place. Henry's heart began to pound.
Three weeks later they had their first sex. Eva's reluctance gave way to passion. She had a beautiful body, everything about her was well proportioned and she seemed to have developed a significant deficit of love and affection over the last few years. The sex on the couch in the living room was reserved, but also passionate. She sat down on the couch and he knelt in front of her. Henry's hard penis penetrated tenderly into her and they both climbed the heights of love for the first time after a long abstinence. They desired each other and their love was like a star, a bright star shining in the night sky.
 Finally, they moved together, overcoming the depths and enjoying the heights of their relationship. Meanwhile Henry had fitted in perfectly with her children. Their visits to their natural father provided Henry and Eva with a break and Henry could even slip into the modest role of a surrogate father, which he fulfilled with much joy and commitment.
He looked back down at the car accident on the street. A crowd had gathered around the scene. A police officer tried to regulate the traffic, while his colleague was discussing with the two involved parties. It seemed as if a controversy had erupted; the driver of the Mercedes began to scream loudly.
All good things have a dark side and so after some time the first cracks formed in their relationship. There was one thing that Henry could not overcome and that was his inability to be sincere and honest with Eva. It bothered him and he concealed it for a long time. Certainly, it was the cause of much controversy and resentment, and he knew that this development and his silence were wrong, but he couldn't overcome his inability to trust Eva. Too many negative experiences had already left their mark. He thought of his latex underwear and took a deep breath. The latex lingerie had been lying unused for years in the closet. How could he share this passion with Eva?
His previous relationships had all failed, some because of Henry's sexual preferences. It was a stupid vicious cycle, from which he couldn't escape. Since his last relationship with Claudia had ended with so much disappointment, he decided to stay single and for many years he had to manage on his own. To put on the latex clothing and jerk off was a short-term pleasure. It made him happy, but not for long. It was only the fulfillment of an animal-like instinct. 
What more could he do? He tried visiting prostitutes, which was an expensive failure. It was a heartless business, this sexual game. He remembered with terror his first visit to a prostitute. A visit to a dominatrix who wanted to show him the procedure of lustful submission had cost him two hundred Euros. After treatment with the whip she got busy on him with her meaty hands. With quick movements and a bored look she gave him relief, he saw his semen spreading on the black tiles. A mask would have been better he thought. That way he wouldn't have to see her fleshy face, as she provided the expensive sexual service. Of course, she had concealed her weight in the newspaper ad. If she weighed forty pounds less on the scales, she might have looked sexy in her latex body, her long black latex stockings and gloves. But now she looked more like the cheese seller from his local supermarket, who might have got lost here.
Henry's second attempt at another dominatrix was also disappointing. The advertisement in the newspaper raised his expectations:
Experienced dominatrix with studio - from 8:00 PM, it said in the ad. The experienced dominatrix turned out to be a 21-year-old law student, who obviously wanted to finance her studies, and the studio was a room in a student housing. The young lady was called Amber and she wore a British school uniform. Her long blonde hair, the small face and the slender figure made her a very attractive individual. Henry had to sit down on a wooden three-legged stool in her little room. The whole room was filled with school books and learning material. Immediately she plastered him with a wave of expletives.
 "Sit down, you bastard! Shut the fuck up! Otherwise I'll give you the wooden spoon on your spotty ass!"
Spoon? Spotty ass? Who's going to get off on these words? His cock was limp and small like a decrepit earthworm. On top of that, another member of the community began to celebrate with a student party. The thumping bass of a music system and loud voices came from another room. Shrill laughter was suddenly in the hall and around the corner. Amber screwed up her face furiously, stalked to the door, pulled it open and shouted at the drunken party guests, while he sat only wearing boxer shorts on the uncomfortable stool. The perplexed party guests gaped at him curiously through the open door. Could she not even pursue her work, a serious job that requires her full concentration? She ranted and raved at the troublemakers.
As she expelled the annoying neighbours with a range of insults from her door, Henry got dressed again. He laid fifty Euros on her bed and made his way stealthily through the ranks of the smirking party guests in the hallway. As the old front door shut behind him, the dark night was like an old friend to him and he disappeared into anonymity. He accidentally heard years later, that the young woman had a relationship with her thirty years older professor at the university, who promptly left his wife for her. They were married shortly afterwards. She broke off her studies and bore him two children. Now they are divorced again. She's working in a supermarket and living together with a truck driver who beats her up on a regular basis.
The last straw was the visit to a Thai prostitute in an S/M Studio. The Thai lady had figured out that a dominatrix can earn much more money than a traditional prostitute on the streets.
Her ad:
Lady Sumatra! Domination games, erotic - exotic, breath control and breath training in a stylish atmosphere, medical play, promised him a lot.
The studio was not far away from his home. On the way to work every morning he passed the studio without knowing what was behind the walls of the residential and commercial building. Some rooms were apparently rented to other women, because many of the nameplates at the front door were inscribed with East Asian names. He was excited and rang the bell with her name: Lady Sumatra. A faint click at the door signaled that he could enter and he climbed the stairs up to the second floor. The mysterious Lady Sumatra wore a white nurse outfit and was waiting for him at the door. The translucent dress, ruffled at the hems was made of fine latex and had probably cost a small fortune. Also, the nurse's cap, the long white stockings and her gloves of white latex looked wickedly expensive and noble. She was dainty, a little too dainty for his taste; he estimated her size to be about five feet including the high heels which were at least four inches high. The lady had obviously invested a small fortune in her apartment at the busy main road. It was a fully furnished studio with S/M-medical equipment and a gynaecological chair. She spoke broken German with a hard Asian accent.
"Hörry! Auszin and hinsätnen in chair, schnell hinsätnen!"
What did she mean? Henri was perplexed.
"Auf den Gunakologstul, immidiateli!"
Did she mean I have to sit on the gynaecological chair!?
Henry had to get undressed and then sit down on the chair. He was completely naked and placed his legs on the appropriate leg supports. The brightly tiled examination room and the chair were freezing and his ass felt the cold. She tied his arms and legs and began preparations for the breath games.
"Not muve, nik bewegen, oder Krankenschwäster machen punishment!"
Well, thought Henry, I prefer to keep quiet and follow her gibberish. She began to fit some plastic tubes onto the openings of a black latex gas mask, only to release them and fit them on other openings of the mask. After a few tries, she looked with a helpless glance at her work. She was holding the gas mask like Shakespeare's Hamlet would hold a skull. Then she shrugged and pulled the mask uncertainly over his head. After a few seconds, his face turned blue. The tubes must have been connected completely wrong. He gasped and coughed. He was handcuffed and was not able to escape.
That was the end he considered. In a few hours he would be found by the police, sitting dead on a gynaecological chair in an S/M club, with a gas mask on his head! He thought of his friends and his parents and their reaction, if the circumstances of his death would be revealed. The lack of oxygen made him muzzy and he fell rapidly and peacefully and without a hint of fear into a deep darkness.